The Beatles in Canada
- a survey of early Beatles releases by Capitol Records of Canada
---
I say in speeches that a plausible mission of artists is to make people appreciate being alive at least a little bit. I am then asked if I know of any artists who pulled that off. I reply, "The Beatles did."
Kurt Vonnegut
---
There is a game people like to play that goes, "When would you most like to have lived and why?" The Italian Renaissance? Mozart's Vienna? Shakespeare's England? Personally, I would like to have been around Bach. But I have a real difficulty with the game, which is that living at any other period of history would have meant missing the Beatles, and I honestly don't think I could do that. Mozart and Bach and Shakespeare are always with us, but I grew up with the Beatles and I'm not sure what else has affected me as much as that.
Douglas Adams, from The Salmon of Doubt (who also deserves a tribute himself.)
---
"He was a giant, a great, great soul, with all of the humanity, all of the wit and humor, all the wisdom, the spirituality, the common sense of a man and compassion for people. He inspired love and had the strength of a hundred men. He was like the sun, the flowers and the moon and we will miss him enormously. The world is a profoundly emptier place without him."
- Bob Dylan (on George Harrison)
My own tribute: Remembering George and Eric Idle's tribute and In the Montreal Gazette
---
Check out Frederick Harrison's article 1963 in the US and Canada for his view of the very early days of pre-Beatlemania in Canada (contrasted with the experience in the US). Also linked is a scan of an early hits chart with Please Please Me at number 27. More information at the Capitol of Canada "6000" series page. In addition (thanks to Andrew Croft for bringing this to my attention) here is an early CHUM chart from 2 December 1963 showing the first listing of She Loves You in the Toronto area.
Of course, post-Sullivan things really got jumping ...

Here is a photo of the band taken at their concert in Montreal, Sept 8th, 1964. Click on it for an enlargement.
Remembering the Beatles in Montreal
---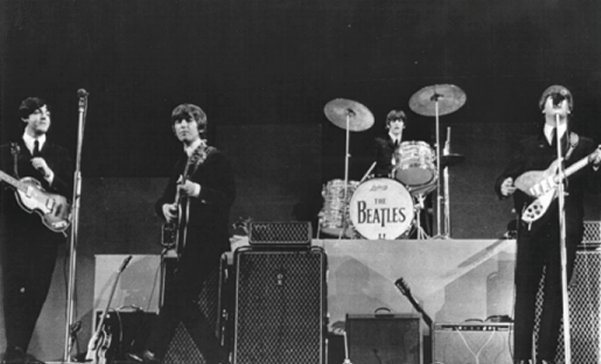 ---
There is a great wealth of information on the net about the Beatles discography insofar as it concerns the UK and the US. Other countries have generally been shortchanged1 in this regard, however, (with the possible exception of Germany and Japan). I would like to add the following short article covering the early Canadian discography, which was significantly different from either the UK or the US history. Capitol Canada was much faster than its American cousin to take up the opportunity offered by EMI, with the result that Canadians experienced Beatlemania sooner than those poor unfortunates who lived south of the border. Capitol Canada did however have the familiar unhappy habit of repackaging the UK albums (in two cases out of three), making the Canadian release history unique. Personally, I prefer the UK releases, even if I had to wait for the CD reissues before I became familiar with them, but like many of my generation, I do have a warm spot in my heart for those battered disks of vinyl with the "6000" series Capitol logo. At least one of the two "official compilations" (which is what I think the North American albums ought to be called) had a lovely cover: "Twist and Shout" bears one of the famous "jump" shots, the one used in the UK for the "Twist and Shout" EP, naturally enough.
I have listed below what I can gather of the releases in Canada of "principal" Beatles material in 1963-64. I have not included re-releases, nor pseudo-compilations like the "The Beatles vs The Four Seasons", the Tony Sheridan sessions, or the pseudo-documentary "The Beatles Story" -- in any event I believe the Canadian history essentially follows the US release history as far as those go. Furthermore, I have stopped this list at 1964, since thereafter Canadian releases are generally the same as the US ones. (There are some exceptions, since Capitol Canada has always been a separate company -- even today, EMI Canada is distinct, and releases in Canada bear its logo. The main differences in US and Canadian recent issues: for Paul's "All the Best" we got the UK version, not the US one, and we did not get as many typos in our release of "Live at the BBC" :-}.) The following information is based on several sources (including my own old collection of vinyl). Two particular debts are to a posting on rec.music.misc by Bob Pietkivitch , and a posting on rec.music.beatles by Gary Flinn . I have not been able to check all of the information in the RMM article; any corrections or additions (or suggestions for improvement) will be most welcome.

PostScript: Some errors and additions have been pointed out to me by Gilles Valiquette; I have made the corresponding changes, with thanks for the help. Some other dates come from Tim Brent and Andrew Croft. Thanks to them all. Further improvements are still welcome.
I have added the "official" release dates, as given by EMI Canada. These, and other information on the Canadian experience, may be found at the Capitol 6000 site. Any other claimed dates are given in brackets - you can be the judge! Thanks to Piers Hemmingsen for these updates.

= rags =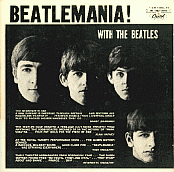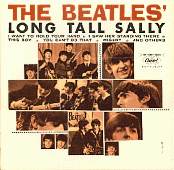 ------------------------------------------------------------------------
 
1963:
 
18 [4] Feb 1963
"Love Me Do" (Ringo version)/"P.S. I Love You" (Capitol Canada 72076)
 
9 Apr 1963
"Please Please Me"/"Ask Me Why" (Capitol Canada 72090)

18 Jun 1963
"From Me To You"/"Thank You Girl" (Capitol Canada 72101)

16 Sept [18 or 28 Oct] 1963
"She Loves You"/"I'll Get You" (Capitol Canada 72125)
 
 
25 November 1963 (Actually released 2 Dec 1963)
ALBUM:  BEATLEMANIA WITH THE BEATLES (Capitol Canada T 6051)
Contents identical to the British WITH THE BEATLES LP.
Side 1: It Won't Be Long; All I've Got to Do; All My Loving; Don't
Bother Me; Little Child; Till There Was You; Please Mister Postman.
Side 2: Roll Over Beethoven; Hold Me Tight; You Really Gotta Hold On
Me; I Wanna Be Your Man; Devil in Her Heart; Not a Second Time; Money.
 
 A nice snapshot of attitudes then:  the cover (the WTB cover with
 an additional top border saying "BEATLEMANIA!") bears the following
 "endorsements" (printed in the area under JGP, left of R):
 
  The newspapers say ...
  A new disease is sweeping through Britain  ...  and doctors are
  powerless to stop it ... It's Beatlemania! This Liverpool group
  play to packed houses wherever they go ...
                                                   Sandy Gardiner
 
  The  Beatles  have created a  teen-age cult  more frenetic than
  anything the  bobbysoxers  dreamed of  in the heyday  of  Frank
  Sinatra ... Four pop idols for the price of one ...
                                                      Alan Harvey
 
  At the  Royal  Variety  Performance  Show ...  The Queen Mother
  beamed ...
  A raucous, big beat sound  ... good clean fun ... "Beatlemania"
  ... was striking everywhere ...
                                                    Time Magazine
 
  Their theatre appearances  draw  screaming  fans  ... The Queen
  Mother found them  "so young, fresh and vital"  ...  they stamp
  about and shake ... prance ... skip ...
                                                Newsweek Magazine
 
 
9 December 1963
"Roll Over Beethoven"/"Please Mister Postman" (Capitol Canada 72133)
 
 
1964:
 
13 January 1964
"I Want to Hold Your Hand"/"I Saw Her Standing There" (Capitol Canada 5112)
(essentially the US release)
 
February 1964 (Actually released 3 Feb 1964)
ALBUM:  TWIST AND SHOUT (Capitol Canada T 6054)
Side One:  Anna (Go To Him); Chains; Boys; Ask Me Why; Please Please Me;
Love Me Do (Andy White version); From Me To You
Side Two:  P.S. I Love You; Baby It's You; Do You Want To Know A Secret;
A Taste Of Honey; There's A Place; Twist And Shout; She Loves You.
 
 
17 February 1964
"All My Loving"/"This Boy" (Capitol Canada 72144)
 
16 [1] Mar 1964
"Twist And Shout"/"There's A Place" (Capitol Canada 72146)

"Can't buy me love"/"You can't do that" (Capitol 5150)
(essentially the US release)
 
20 April 1964
"Do You Want To Know A Secret"/"Thank You Girl" (Capitol Canada 72159)
  
15 Jun [10 May] 1964
"Sie Liebt Dich"/"I'll Get You" (Capitol Canada 72162)
  
11 May 1964 (Actually released 27 April 1964)
ALBUM:  LONG TALL SALLY (Capitol Canada T 6063)
Side One:  I Want To Hold Your Hand; I Saw Her Standing There; You
Really Got A Hold On Me; Devil In Her Heart; Roll Over Beethoven; Misery
Side Two:  Long Tall Sally; I Call Your Name; Please Mister Postman;
This Boy; I'll Get You; You Can't Do That
 
From then on, the releases in Canada were (essentially) the same as
those in the US, including several singles and 3 LPs:
Jun     A Hard Day's Night (LP - United Artists).
Jul     "A Hard Day's Night"/"I Should Have Known Better" (45).
        "I'll Cry Instead"/"I'm Happy Just To Dance With You" (45).
        "And I Love Her"/"If I Fell" (45).
        "Slow Down/Matchbox" (45).
        "I Feel Fine/She's A Woman" (45)
        Something New (LP).
Dec     Beatles `65 (LP).
 
------------------------------------------------------------------------
 

RAGS Home Page:
http://www.math.mcgill.ca/rags
(look for this article and other Beatles links at bottom under Miscellany)
---
Addendum
Here is another addition to the north american experience:
There are four unique to Mexico Lps issued in early 1964 by Capitol of Mexico. Tim Brent posted this notice on rec.music.beatles - for a more complete listing of Mexican (and many other countries) Beatles releases, I recommend a visit to The Internet Beatles Album or "Frank's meagre Beatles page".


Conozca Beatles       SLEM 007
Side 1: I Want To Hold Your Hand, I Saw Her Standing There, This Boy,
I'll Get You, Thank You Girl, She Loves You
Side 2: Don't Bother Me, Little Child, Hold Me Tight, I Wanna Be Your
Man, Not A Second Time, From Me To You


The Beatles,Vol. 2    SLEM 043
Side 1: Roll Over Beethoven, Baby,It's You, Please Please Me, Boys,
Twist And Shout, Ask Me Why
Side 2: Love Me Do, P.S. I Love You, Taste Of Honey, Do You Want To Know
A Secret, All My Loving, It Won't Be Long


The Beatles,Vol. 3    SLEM 045
Side 1: Devil In Her Heart, Money, Anna, Chains, Misery, You Can't Do That
Side 2: There's A Place, All I've Got To Do, Till There Was You,
Please Mister Postman, You Really Got A Hold On Me, Can't Buy Me Love


The Beatles,Vol. 4    SLEM 047
Side 1: A Hard Day's Night, I Should Have Known Better. If I Fell, I'm
Happy Just To Dance With You, And I Love Her, Tell Me Why
Side 2: Anytime At All, I'll Cry Instead, Things We Said Today, When I
Get Home, I'll Be Back, Long Tall Sally

=======
Source:
From: timbrent@canada.com (Lord Tim Brent)
Newsgroups: rec.music.beatles.moderated
Subject: The Beatles Mexican LPs
Date: 11 May 2000 19:49:52 GMT

---