Category Theory at McGill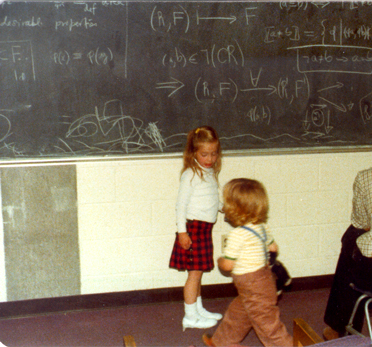 Silvia Bunge and Carl Christian Mikkelsen, Montreal '78
---
Category Theory
Category theorists are conceptual mathematicians of a special kind. What binds them together is that they approach mathematical problems with a point of view that is radically different from that on which traditional mathematics is based, and which emphasizes interactions between mathematical objects over their individual constituents. Their results are often surprising, provide new insights, and are obtained by the invention of sophisticated notions, theories, and techniques. Category Theory is only little more than 50 years old (dating it back to the work of S. Eilenberg and S. MacLane in 1945)-- yet, its impact on several branches of mathematics has been considerable, in spite of the reluctance to recognize it as a revolutionary independent field dealing with foundational questions, very different from Set Theory.
Category Theory at McGill
The category theorists that constitute our group are, in order of their joining the Department, Jim Lambek, Marta Bunge, Michael Barr and Michael Makkai,with the addition of Robert Seely and Thomas Fox as Adjunct Professors. Together, they have a variety of traditional interests comprising Logic, Model Theory, Set Theory, Ring Theory, Algebraic Theories and Categories, Differential Algebra, Homological Algebra, Synthetic Differential Geometry and Topology, Hopf Algebras and Dynamical Systems, Topos Theory, Locales Theory, Fundamental Group, Descent, Classifying Toposes, Theory of Distributions, Fibered Categories, Higher-Order Categories, Categorical Linguistics, and Theoretical Computer Science. After the retirements of Jim Lambek and Michael Barr, both Emeritus Professors, we hope to be able to make new strong additions to the Department in the near future. The following is a more or less exhaustive list of Category Theory Centers in the world: Montreal, Cambridge, Sydney, Chicago, Buffalo, Bangor, Louvain-la-Neuve, Utrecht, Genova, Trieste, Como, Paris, Toronto and Dalhousie.
The Montreal Categories Center
It began informally in 1966, when Jim Lambek, after a sabbatical year in Zurich and contact with Bill Lawvere, decided not only to work in the field himself, but also to promote it at McGill. He then brought Marta Bunge ( a student of Peter Freyd and Bill Lawvere) to McGill as a post-doctoral fellow, later to join the staff. Within a year, the Berkeley logician Gonzalo Reyes joined the Universit\'e de Montr\'eal, while Michael Barr, a homological algebraist, joined McGill, bringing along three graduate students. Various seminars and increased activity were carried on at these two Universities. Out of the Universit\'e de Montreal came Andr\'e Joyal, now the center-piece at UQAM, and out of McGill came Bob Pare, the promoter of the Dalhousie Category Theory Center. Later on, the group was enriched by the hiring of Mihaly Makkai, a logician from Budapest. Within five years, the nucleus of the group, as it exists today, was already formed. No further hirings in Category Theory were made in more than 25 years at any of these three institutions. Yet, the activities which this group has generated has been (until now) truly remarkable from the points of view of graduate students, postdoctoral fellows, visitors, organization of meetings, invited lectures at international meetings, editorship of various important journals, distinctions of various kinds, individual and team grants from NSERC and FCAR, bulk and quality of publications, and an incredible network of international contacts. The activities of the group are partly reflected by those of the Centre de Recherches en Theorie des Categories, within the Institut des Sciences Mathematiques.
Current Research Areas in Category Theory at McGill
Three areas deserve attention because of the novelties they bring and because they are part of a truly international joint effort. Let us refer to them as "Grothendieck's Program", "Lawvere's Program", and "Computational Category Theory". Although not pairwise disjoint, their objectives are different and can be briefly described as follows.
Grothendieck's program was expounded by Grothendieck in his famous unpublished very long "Letter to Quilllen". In Montreal, Joyal, Makkai and Bunge are "pursuing the stacks" from different points of views.
Lawvere's program was initiated by Lawvere in two steps, in 1967 and in 1983. The first is called "Categorical Dynamics" and it gave rise to "Synthetic Differential Geometry". In Montreal, both Reyes and Bunge have worked and formed many students in this area. The second is called "Distributions Theory on Toposes" and is still in full development.In Montreal, Bunge and her collaborators from elsewhere (A. Carboni (Como), J. Funk (Saskatchewan), S. Niefield (Union College), M. Fiore (Sussex), M. Jibladze (Louvain-la-Neuve and Tbilisi), and T. Streicher (Darmstadt) has been actively engaged in research in this area for the past seven years.
Computational Category Theory. Broadly speaking, this includes Linear Logic, Chu Categories, Synthetic Domain Theory, Coherence, Bi-completions of Categories, Categorical Proof Theory, and Categorical Linguistics. In Montr\'eal, Lambek, Barr, Seely and others are actively working in some aspects of this program.
---